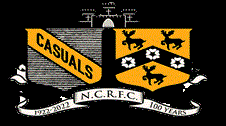 To all Casuals past and present:

You may or may not be aware the 2021/22 is the Centenary Season for Northampton Casuals Rugby Football Club. Having been founded in 1922, next year will be the Club's 100th Season, and planning is already under way to celebrate with a number of events throughout the year.

These will include a 7's tournament planned for July 2021, a family fun day during the summer and a Music Festival to close things down in August 2022. In addition, there will be a number of social events throughout the year, but the keynote event which is now in the latter stages of planning and is a firm booking, is a Black Tie Ball which will take place at the Park Inn Northampton on Saturday 27th November2021. Guests from the RFU, The East Midlands RFU, The Northampton & District Rugby Alliance and the East Midlands Referee's Society have already accepted invitations and we are presently securing the services of a keynote speaker and Master of Ceremonies. The evening will include Dinner and will conclude with entertainment from a live band. The Event is planned for members, guests and their partners and will be limited to 400 people.

Tickets are now on sale at £60 per head and £100 per couple and if required, payment may be arranged through a direct debit of £10 per month. To book your place for what will be the highlight of the Season's celebrations, please contact Peter Franklin at:

peter.franklin500@btinternet.com or by telephone at 07772 372996.

Demand is expected to be high so it is advisable book now to avoid disappointment.